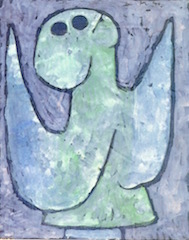 GRIS GOTT

THE VALANGA DI VITA COMPANY, INC.
THE COLLEGES OF BLU
ENGELBLAU COLLEGE
SO FUNNY, NEED TO TWEAK THE SCRIPT
THE LOT RADIO LINK
OCTOBER 2019. Regarding the Gabuzzo webpage complex and how it needs to morph into something manageable, Muses who were meditating on musical matters, made a Massive Multifaceted Mess of Madcap Magnificence, which must be mopped up according to Messianic Mandates.
That means, blame it on angels.
Is that an ancient Greek pass the buck strategy or what? This mess is totally not mine. Zeus made me do it. LOL.
Meanwhile its' time to mangiare. Ok ok ok.

One possible sympathetic spin on the Godfatherish Gabuzzi is that they resemble the mythological southern italian characters, Il ragazzo di Via Gluck and Serafino, (the latter having been made into a movie) popularized by Celentano, totally out of place when separated from the rural landscapes they called home.
As Pasolini would say, those who destroyed their home with bulldozers and indiscriminate development should be charged with crimes.

DJ tribute wall. Let's do this. LOL.
YES, THE GABUZZOS HAVE YIELDED SOME CYBER TERRITORY TO THE BUZZI (apparently the last name of Pope Leo's mother. Life is just too weird.
We hope you enjoy this webpage.
This of course was the original page of the "warp" trilogy which includes little vanya, fetty and the Garbanzos.
it has now been baptized or "whitewashed" in the Jordan river, and as such tends to be a bit "free flowing"
Please do excuse the clutter.
A word about money and the "music industry".
Music seems to be too much about money which excludes those who have no money.
Since we are internally displaced refugees who escaped and left all our dough with the violent ones, we sympathize with this.
And economics is part of our investigation.
Music, the foundation of education: is it a crazy idea? Maybe not.
We're going to continue to investigate it.
This college is based on the idea that education relies on listening, not just hearing.
To have a university you need academic credentials and that was our aim.
Originally it was based on stars and astronomy but we could never agree on a name, should it be Sundog U or Astron U or Galileo U, and then it became ENGELBLAU and URIEL.
NOTE: The Holy Name of Mary, the priest has this to say: God intervened in her life, changed the plan, gave her a new name.
So it doesnt' just happen because of some bad thing.
God intervenes to give us a plan that is better than what we could imagine on our own so there's no problem to adjust the name and direction of the project, to be more truly directed.

QUESTION: Is a musical foundation for all kinds of human hope legitimate? If the proposition that "music is the best teacher" is true, than phenomenology should be able to argue convincingly in support of this.
In other words, does human experience support the theory?
The theory was supported by Kandinsky who was not even a musician, (although he seems to have been a little bit extreme in his idea that artists were the top of the pyramid, isn't pride a dangerous thing) and Tolkien who likewise was not a musician, but loved poetry, ended up with the Silmarillion.
The publishers rejected it as being too "out there", something nobody could relate to so he wrote the Lord of the Rings instead which a lot of people relate to. He left the creation through music theme aside.
POINT: The disciples did not record what Jesus looked like. They wrote down what he said.
That, was what they considered to be important and they all died to prove it.

THIS GOES ON BLOG PAGE: don't bother to apply if you're not willing to perform a shameless Taytay, Miley, Ariana or Selena mashup, while Mercury is in retrograde, or else on the night of a full moon. Just kidding.
I really really wanted to do a Billy Idol cover, Jay Z or Rixton but Youtube just wont connect.